Astir Palace Gate & Entrance Canopy
Gate and Entrance Canopy for 5-Star Hotel complex / Athens, Greece
2008
High Commendation, World Architecture Festival, 2008
Mies Van Der Rohe European Architecture Award Nominee, 2009
Special Mention, Hellenic Institute of Architecture, 2010
---
Two inlets in mild curves, one transparent, the other opaque, fluid space, vertical metal grids, a continuous curve that unfolds in order to create the in-between.
In 2018 the demolition of the gate was stopped and the Ministry of Culture decided its preservation. The first contemporary building to be given this status.
The curved form of the canopy extends on the two sides to create a sense of enclosure, with the white columns introduce strong verticality.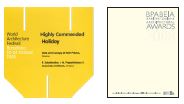 CREDITS
Architectural Design: Rena Sakellaridou, Morpho Papanikolaou | SPARCH
Collaborators: I.Kloni, N.Katsikis, G.Anagnostelis, G.Adhlenidou
SPARCH SAKELLARIDOU / PAPANIKOLAOU ARCHITECTS / All rights reserved / 2023