Eco-Cocoon - Green Academy
Renewal of a former paper factory in Marzabotto / Bologna, Italy
2016
Finalist Mention, International Architectural Competition
Honorable Mention, 'Best Project 2012-2016' category, DOMES Awards 2017
---
Renewal of a former paper factory in Marzabotto, Bologna, Italy.
To recycle old into new, our proposal takes what exists and looks at it in a new way. Recycling becomes pragmatic and creative. We design an eco-cocoon that includes buildings and nature, old and new elements. The eco-cocoon is a filter, a canvas, a scaffolding with a strong iconic figure. In its surface, all sort of experimental panels for sustainable energy and eco-friendly materials are tested.
On the ground level, the old factory is transformed into a space for start-ups. On the two upper floors, an eco-science museum with research laboratories, while on top of the old factory a planted terrace. Space is left untreated, rough, evoking memories of the past, while allowing the new program to take over.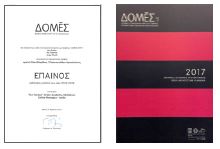 CREDITS
Architectural Design: Rena Sakellaridou, Morpho Papanikolaou | SPARCH Sakellaridou / Papanikolaou Architects
Collaborating Architects: N. Apergis A. Georgiadis, N. Tsompikou G. Papanikolaou, A. Verteouri, A. Vasileiou
Students: D. Pouniou, Z. Kokogia, P. Vryza, K. Venieris, A. Carrer Vives, M. Vollas
SPARCH SAKELLARIDOU / PAPANIKOLAOU ARCHITECTS / All rights reserved / 2023